The Right Combination

Dr. Darouiche and Dr. Raad discovered that the pairing of minocycline and rifampin (M+R) produced a combination that is effective at protecting against a broad spectrum of organisms, including CNS, MRSA, VRE, VRSA, and several gram-negative bacteria.
Minocycline+rifampin is the most rigorously studied combination of antibiotics available on a catheter for reducing CLABSIs/CRBSIs through two distinct mechanisms of action. "Coated catheters with zone sizes of ≥ 15 mm were highly predictive of in vivo efficacy, whereby colonization of the indwelling catheter is prevented."1, citing 2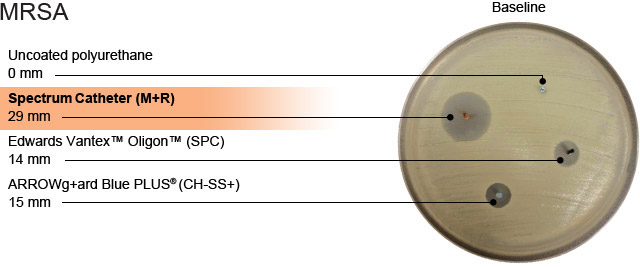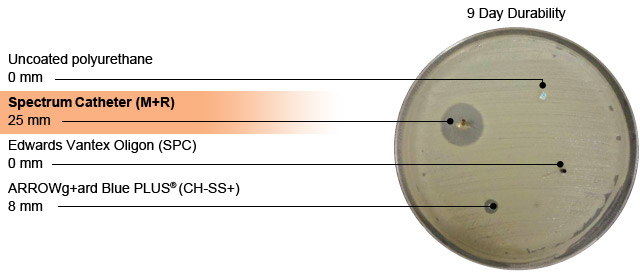 Image used courtesy of I. Raad, MD, Chair, Department of Infectious Diseases. M.D. Anderson Cancer Center, University of Texas School of Medicine, Houston, Texas. Used with permission.
References – The Right Combination
Raad I, Darouiche R, Hachem R, et al. Antibiotics and prevention of microbial colonization of catheters. Antimicrob Agents Chemother. 1995;39(11):2397-2400.
Sherertz RJ, Carruth WA, Hampton AA, et al. Efficacy of antibiotic-coated catheters in preventing subcutaneous Staphylococcus aureus infection in rabbits. J Infect Dis. 1993;167(1):98-106.