No Evidence of Increased Resistance

Five prospective studies1-5 have examined the susceptibility of clinical isolates to the development of antibiotic resistance from M+R CVC use. None of the studies showed any association between M+R and antibiotic resistance, nor did a 7-year study of over 500,000 catheter days.1
Coagulase-Negative Staphylococcus (CNS): No Evidence of Increased Resistance After > 500,000 Catheter Days of Antibiotic Catheter (M+R) Use 6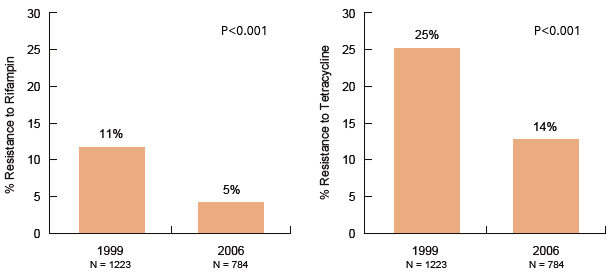 S. aureus: No Evidence of Resistance After > 500,000 Catheter Days of Antibiotic Catheter (M+R) Use 6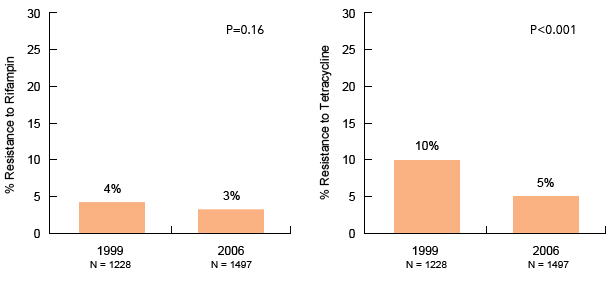 References – No Evidence of Resistance
Darouiche RO, Raad, II, Heard SO, et al. A comparison of two antimicrobial-impregnated central venous catheters. Catheter Study Group. N Engl J Med. 1999;340:1-8.
Hanna H, Benjamin R, Chatzinikolaou I, et al. Long-term silicone central venous catheters impregnated with minocycline and rifampin decrease rates of catheter-related bloodstream infection in cancer patients: a prospective randomized clinical trial. J Clin Oncol. 2004;22:3163-3171.
Hanna HA, Raad, II, Hackett B, et al. Antibiotic-impregnated catheters associated with significant decrease in nosocomial and multidrug-resistant bacteremias in critically ill patients. Chest. 2003;124:1030-1038.
Raad I, Darouiche R, Dupuis J, et al. Central venous catheters coated with minocycline and rifampin for the prevention of catheter-related colonization and bloodstream infections. A randomized, double-blind trial. Ann Intern Med. 1997;127:267-274.
Chelliah A, Heydon KH, Zaoutis TE, et al. Observational trial of antibiotic-coated central venous catheters in critically ill pediatric patients. Ped Infect Dis J. 2007;26:816-820.
Ramos ER, Reitzel R, Jiang Y, et al. Clinical effectiveness and risk of emerging resistance associated with prolonged use of antibiotic-impregnated catheters: more than 0.5 million catheter days and 7 years of clinical experience. Crit Care Med. 2011;39(2):245-251.